Dass Mobiles - Palacode Dharmapuri
Bags / Mobiles-Shop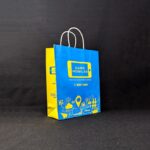 Dass Mobiles give best cell phones at pretty, pretty price, they had a thought of showing up their brand more attractive to the world outside.. And the team has thought paper bags for their business would give a greater edge.
And viola! With Roopac, look how cool the design has come out for DASS Mobiles in all guns- yellow and blue.
Own a mobile store? Here we are, just click here and we'll take care rest of the things!
If you like this- you might also like Red Mobiles and Borassco