Kanakadhara, Chennai
Bags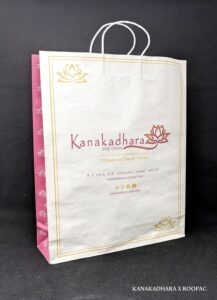 ft.Kanakadhara Silks, Chennai
We bring you a mix of both classy and trendy paper bags from Chennai. It comes with the color white with a yellow double border & yellow lotus on the top right corner & the left bottom corner making the bag more classy.
The two sides having a pink color background with white lotus patterns looks adorable.
The stylish font in pink & pink outlined yellow flower looks trendy & different.
If you like this- you might also like Hay and Morrio